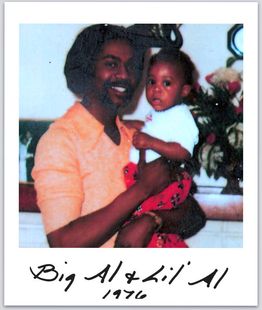 25 years ago today the Lord chose to call a hero home, my dad Alvin J. Frazier. I've never felt more lost in this life than I did on that fateful day. I remember thinking to myself being 13 at the time, "What's gonna happen to me now that daddy's gone?" I had been the man of the house for a few years by then and now I would be the man of the family. A lot to shoulder for a young man.

In the short 13 years I had with him, he shared so many things with me and those things have helped shape the man I've become. He was very transparent with me exposing flaws and even admitting mistakes so when I use the term "hero" it wasn't because he was perfect because he wasn't but he was honest and I loved him even more because of that. That's part of the man he was. My father always said and expressed how much he loved my sister and I whenever we saw or spoke with him. He made sure that we knew he loved us. The joy in his eyes and the smile on his face when he saw us said it all.

There are days I long to see, sing, talk, cry or share a laugh with him again. Just to hear him say "I love you" or "I'm sicka you!!" which was his way of saying I'm proud of you with a huge smile...man(sigh). I miss him dearly, but I see reminders of him daily when I read my name on something, when I look in the mirror and when I see my sister so I know he's always around I just wish I could audibly hear him or physically touch him. My career is an extension of his dream. He too was a very talented performer and singer, but it didn't go as far as he had hoped. When I was young he told my grandmother that since it didn't happen for him maybe it might happen for me so for every degree of success I've been fortunate to have it's not just for me, it's for my father as well... When I see "Alvin Frazier" or "alvin frazier" on something, my first thought is "It's coming together daddy slowly but surely."

Through all that has happened since then the Lord has kept us as a family. Whenever I found myself turned around or lost, Jesus has always gotten me back to where I belong and for that I am thankful and ever so grateful.

Thank you for reading...
Peace & Blessings
al